Israeli doctors battle to save Saeeb Erekat's life
If only hateful hypocrisy were a curable disease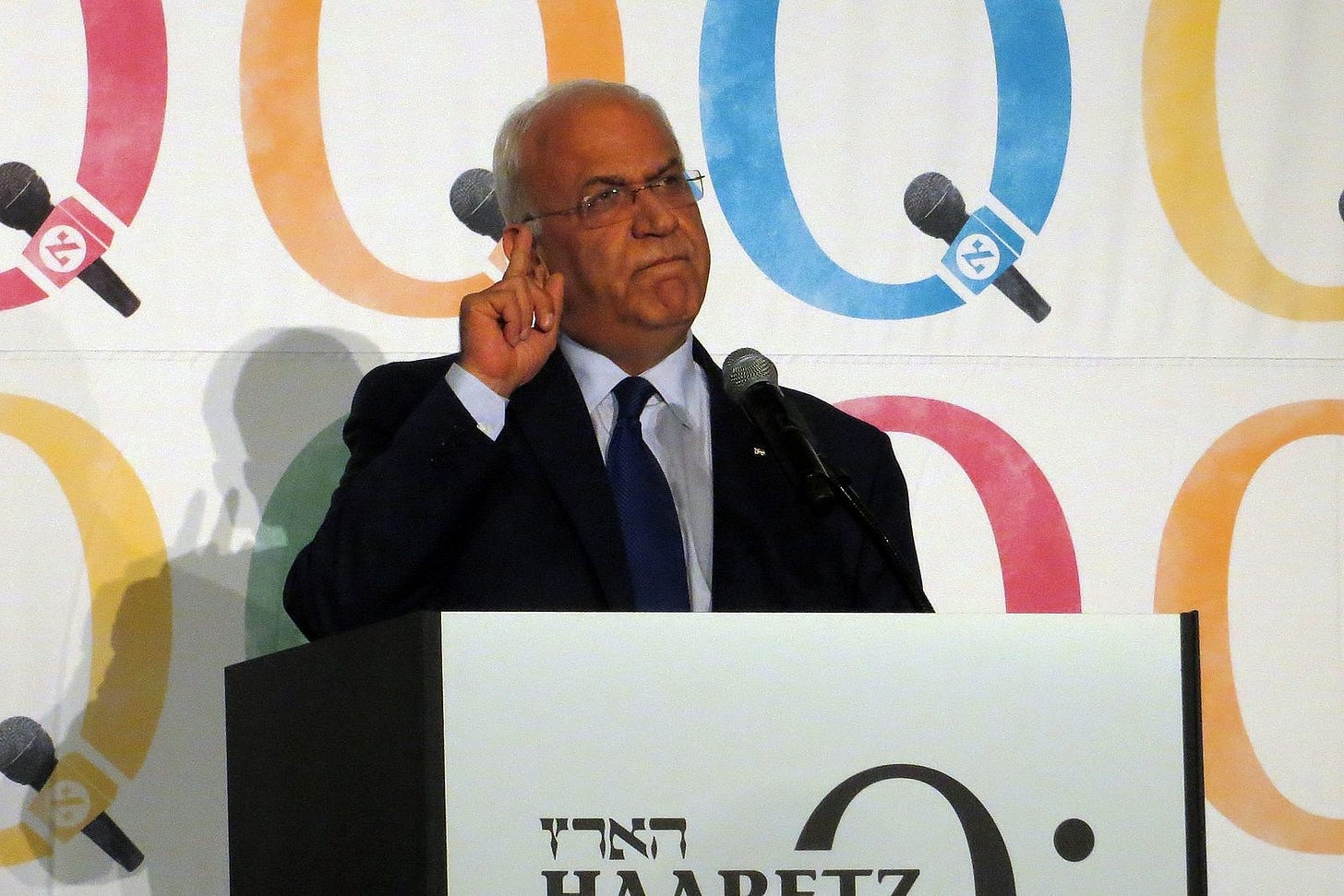 Saeeb Erekat, Ha'aretz conference, 2015
The 65 year-old Palestinian chief negotiator, Saeeb Erekat, is deteriorating so badly from Covid-19 that he has been rushed from his home in the "West Bank" to a hospital in Israel. It is Hadassah hospital in Jerusalem.
That fact is presumably deeply unpalatable to Erekat's comrades in the Palestine Liberation Organisation. In a statement on Sunday, the PLO said: 
Following his contraction of Covid-19, and due to the chronic health problems he faces in the respiratory system, Dr Erekat's condition now requires medical attention in a hospital. He is currently being transferred to a hospital in Tel Aviv.
The Times of Israel reported that the PLO couldn't even bring itself to say he was being admitted to hospital in Israel, but said he was 
being transferred to a hospital in the 1948 areas. 
The BBC reported for most of today that Erekat 
has been admitted to hospital in Tel Aviv, Israel with Covid-19.
In fact, as the Jerusalem Post, Times of Israel and jns.org correctly reported, he had been admitted to Hadassah hospital in Jerusalem, Israel. The BBC finally updated its website report this evening to identify the Israeli hospital as Hadassah.
There he will receive the finest care by Israeli doctors in the attempt to save his life. Those doctors will be both Israeli Jews and Israeli Arabs. He will be nursed by a staff consisting of Israeli Jews and Israeli Arabs. He will be treated alongside patients who are both Israeli Jews and Israeli Arabs, and he will be dealt with, as they all are, according to the priority dictated by his clinical needs.
There's one further point. On Palestinian Media Watch, Itamar Marcus writes:  
Palestinian Media Watch has reported that while Israel has been giving significant medical training and other aid to the Palestinian population to fight the coronavirus, the PA has been using the pandemic outbreak to spread the libel that Israel is intentionally infecting Palestinians with the virus and trying to kill them. 

Erekat, a Fatah Central Committee member and PLO chief negotiator, went even further when he joined this chorus of hate, penning an op-ed in which he libelled Israelis, claiming they are "spitting on Palestinian cars and property in order to transfer the Corona disease" to fulfil "the wild desire to get rid of the Palestinian people in any way." [Official PA daily Al-Hayat Al-Jadida, March 30, 2020] 

If Erekat really believed his own libel that Israelis "have the wild desire to get rid of the Palestinian people," he certainly would not have chosen Hadassah hospital to treat him and try to save his life. 

This contradiction documents once again that the PA leadership is consciously lying when it demonises Israel to its population with sole purpose of creating hatred toward Israelis and Jews.
It will be interesting to see how many British or other western media outlets do full justice to this.
Recent posts
Premium subscribers can read my latest exclusive post, on the horrific beheading of French schoolteacher Samuel Paty and the bleak alternatives facing France if it doesn't adequately tackle Islamic fanaticism, by clicking here.
And you can read my previous post that's available to everyone, on how the BBC's problem is worse than "woke-ish" bias, if you click here.
One more thing…
This is how my website works.
It has two subscription levels: my free service and the premium service.
Anyone can sign up to the free service on this website. You can of course unsubscribe at any time by clicking "unsubscribe" at the foot of each email.
Everyone on the free list will receive the full text of pieces I write for outlets such as the Jewish News Syndicate and the Jewish Chronicle, as well as other posts and links to my broadcasting work.
But why not subscribe to my premium service? For that you'll also receive pieces that I write specially for my premium subscribers. Those articles will not be published elsewhere. They'll arrive in your inbox as soon as I have written them.
There is a monthly fee of $6.99 for the premium service, or $70 for an annual subscription. Although the fee is charged in US dollars, you can sign up with any credit card. Just click on the "subscribe now" button below to see the available options for subscribing either to the premium or the free service.
A note on subscriptions
If you purchase a subscription to my site, you will be authorising a payment to my company Dirah Associates. In the past, that is the name that may have appeared on your credit card statement. In future, though, the charge should appear instead as Melanie Phillips.
And thank you for following my work.